Introduction
The first emoji created in 1999 had humble beginnings with only 176 original icons. Today, that number has skyrocketed and has long since surpassed 3,000. They are more than a millennial fad and have become commonplace in our daily communication both socially and professionally. According to a report from Emogi, 92% of the online population use emojis daily.
Studies also found that using an emoji in conversation introduces feelings of enjoyment, happiness, and solidifies an overall positive impression of the interaction, which has led brands and businesses to begin to incorporate them into their social media marketing efforts to enhance their messaging. Below, we will explore six tips to get the most out of emojis in your social media marketing and ensure they don't do more harm than good.
Tip 1 – Know your brand and your audience
First and foremost, you never want to alienate your audience. Before starting to leverage emojis in your social media marketing efforts, take some time to contemplate who your audience is and what appeals to them. The better your research at this step, the more effective your strategy will be long-term. It's also important to contemplate whether or not emojis are an appropriate compliment to the tone of your brand.
As a society, more people believe that images do a better job of expressing their feelings than words and 78% of people say emojis can make you more likeable. While that number is high, nothing is ever a 100% guarantee, so take the time to determine what's a good fit for your audience and will also help you reach your marketing goals.
Tip 2 – Substitute generic or overused words
If you decide an emoji would make a great addition to your content on social media, then you may be wondering what's the best way to start. The most effortless way to start incorporating emojis is to pick out some generic and overused words that may be hiding in your copy. Sometimes on platforms like Instagram where a call to action typically prompts your audience to "Click a link in your bio", the word 'link' can quickly be replaced with an emoji that is clear and effectively communicates what you are referring to.
It is important, however, not to go too crazy with the word replacement. Be careful with your emoji usage—59% of consumers aged 18-34 believe companies are overdoing it. Your goal is not to have a long string of emojis, because that can quickly get confusing or overwhelming to the viewer.
Tip 3 – Start Organically
If your brand is new to the emoji game, it's best to not go crazy with them at first. By beginning to slowly incorporate emojis into your posts, in ways like Tip #2 suggests, your audience will start to accept them naturally and associate emoji usage with your brand.
Doing too much, too quickly could be confusing and turn off a potential customer if they are not accustomed to seeing symbols in your messaging. In this respect, if emojis are not a staple in your social posts, they should not appear in your ads just yet. Slow and steady wins the race.
Tip #4 – Be Inclusive
Sometimes emojis can be more than fun additions to your social media marketing efforts. In 2015, Apple introduced more racially diverse emojis to their collection– a nod to the diversity of human skin tone since we do not all associate with a shade of yellow. At first this move proved to be controversial to some who argued race was being inserted into conversations where it previously didn't need to be. *sexual orientation, gender identity, even culturally*
In the years since, though, racial diversity, social justice, gender identity and issues regarding sexual orientation have become major topics of discussion in society. In this respect, using inclusive emoji in your marketing efforts today can be a way to relate to your audience and even set your brand apart when used appropriately and respectfully.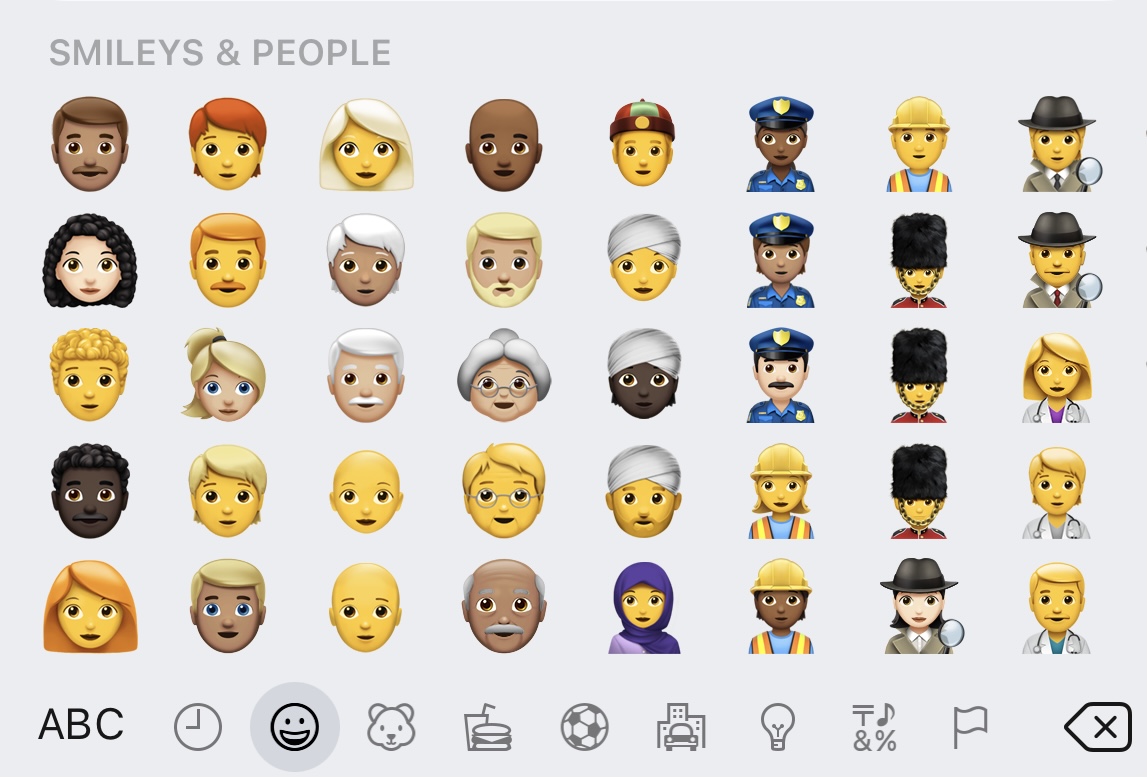 Tip #5 – Be more eye catching
Adding in a few emojis can be a quick and easy way to help your content stand out from the rest in the endless timeline. The data doesn't lie when it comes to the benefits of using emojis in your posts and ads to increase engagement and connect with audiences. This can especially be noted on platforms that are mobile friendly such as Facebook and Instagram. Facebook posts experienced an impressive 57% boost when emojis were included. Similarly, Instagram content that utilized emojis saw a 48% increase in engagement.
Modern algorithms rely on comments and shares, the more engagement the better, to spread your content organically. Emojis were shown to increase comments and shares by about 33% when present. Stop the scroll with a few eye-catching emojis that connect and clearly communicate your message to your audience and encourage more authentic engagement.
Tip #6 – That emoji means what?!
The internet is a crazy place, this we can all agree. With so many different voices and influences, trends and topics can take on a life of their own, specifically when it comes to the meaning of different emojis. It's important to point out that the meanings of different emojis are often modified by Internet culture or appropriated by different groups. This could be detrimental to your social media marketing efforts if you aren't in the loop.
A properly used emoji can make your audience smile and feel better connected to your brand. Prior to using specific emojis, it can be helpful to do a little research and make sure that it isn't a part of a trend that could be taken out of context and reflect back poorly on your brand.
Conclusion
Determining how and when to use emojis in your social media marketing efforts can seem daunting at first, but by following these quick tips your brand and business will be able to rise above the noise of our daily timelines and connect with your audience in new ways.
---